Smart Design All Around
Securely Enclose Your New Mac Pro and PCIe Cards
Constructed of heavy-duty steel, xMac Pro Server's outer 4U rackmount enclosure provides secure mounting and protection for the Mac Pro and PCIe cards installed inside. Hidden behind a handsome front panel, both the computer and PCIe card expansion system reside in separate modules to simplify setup and maintenance, allowing you to work with the computer or cards individually. We know that your Mac Pro is a beautiful, gleaming cylinder, so we constructed a protective enclosure for the computer out of steel, and covered it with soft touch padding to hold the Mac Pro firmly in place while protecting its mirror finish. The remaining space in the enclosure is perfect for installing a Mobile Rack Device Mounting Kit with additional equipment such as HDDs and SSDs, a tape drive or optical drive, or even a Twin 10G Dual-Port 10 Gigabit Ethernet Thunderbolt 2 Adapter.
Computer Mounting Module

Provides a protective steel "cocoon," covered with soft touch padding, that holds the Mac Pro firmly in place while protecting its mirror finish. Rear panel-mounted cables connect the Mac Pro to the back of the xMac Pro Server for convenient external connections.

Learn More

PCIe Card Expansion Module

Features three PCIe 2.0 slots, two Thunderbolt 2 ports, and a universal 300W power supply with 75W auxiliary power connector for cards that require supplementary power.

Learn More

Mobile Rack Device Mounting Kits

Optional Mobile Rack Device Mounting Kits expand xMac Pro Server with peripheral expansion. Basic kit includes mounting bracket with 100W power supply and fan. Pre-configured kits include PCIe adapter card, plus cables and devices.

Learn More
Cool, Quiet Operator
The new Mac Pro's cylindrical core is topped with a single large fan that quietly and efficiently cools the computer, drawing in cool air through the bottom and expelling warm air through the top. Mounted on its side inside xMac Pro server, the computer's airflow path remains unchanged and unobstructed—full, independent airflow through the computer is maintained according to Apple's guidelines.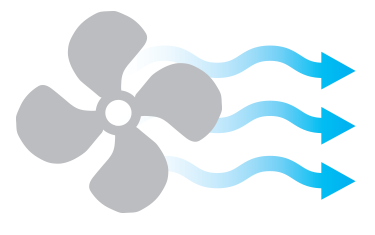 The xMac Pro Server was designed to be remarkably quiet so that it can be comfortably used in noise-sensitive environments. The PCIe Card Expansion Module is cooled separately with dual, ultra-quiet, temperature-controlled fans. Its fans vent warm air through custom Venturi openings, resulting in reduced air velocity, turbulence, and, consequently, fan noise. The fans are variable-speed, and the computer-modeled airflow management ensures that even hot-running cards and the module's components remain reliably cool without the need to install an extra PCIe blower card that would prevent the use of one of the three slots.
Built for Expansion
Lighting Fast 10GbE Connectivity Over Thunderbolt 2
The latest xMac Pro Server supports the installation of Sonnet's Twin 10G dual-port 10GBase-T 10 Gigabit Ethernet (10GbE) Thunderbolt 2 Adapter, a powerful and cost-effective way to add 10GbE connectivity to your setup. The Twin 10G incorporates mounting points to support firm attachment to the xMac Pro rackmount enclosure in place of a Mobile Rack Device Mounting Kit.
Using the optional Twin 10G Mounting Kit, the adapter is secured inside of the enclosure (in place of a Mobile Rack Device Mounting Kit), thereby enabling 10GbE connectivity for the Mac Pro via a separate Thunderbolt 2 port for maximum bandwidth, and without taking up a PCIe slot or requiring extra rack space.


Mobile Rack Device Mounting Kits for Added Versatility

Add one (full-height) or two (half-height) 5.25" mobile rack peripherals to your xMac Pro Server using the Mobile Rack Device Mounting Kit (sold separately).


Thunderbolt Cable with ThunderLok Included
Thunderbolt connectors are held in place by friction, which works well in situations where equipment remains undisturbed while operating. But when there's a chance of movement nearby, there's a chance the Thunderbolt cable can be unintentionally unplugged possibly leading to loss of your work or data. Sonnet's ThunderLok prevents accidental cable disconnections from xMac Pro Server's PCIe Card Expansion Module, and is easy to install and use—just slide it over one end of the cable, and then plug in the connector and secure it to the enclosure by turning a thumbscrew. Because of its unique design, ThunderLok does not attach to the connector but remains on the cable so it won't get lost when not in use.
Learn More

Locking HDMI Cable Included
Also included with the xMac Pro Server is a Sonnet-exclusive HDMI cable with a locking connector on one end. This cable attaches securely to xMac Pro Server's Computer Mounting Module to prevent accidental disconnections.
Thoughtful Design Touches



Front panel power switch turns the computer on and off without the need for you to reach around back.

Front panel USB 3.0 port connects to the Mac Pro, enabling you to connect a keyboard, mouse, or thumb drive to the computer without having to access its ports from the back.





An included Thunderbolt cable connects one of the Mac Pro's Thunderbolt 2 port to one of xMac Pro Server's Thunderbolt ports, linking the PCIe slots to the computer.

To avoid accidental cable disconnections, Sonnet provides ThunderLok for Thunderbolt cables and an exclusive HDMI cable with a locking connector on one end.



Like the Mac Pro, xMac Pro Server's additional Thunderbolt 2 port supports daisy chaining Thunderbolt peripherals such as additional PCIe expansion (like Sonnet's Echo Express III-R rackmount chassis), pro video breakout boxes, video capture and playback devices, audio I/O devices, and more.

Mac Pro interface ports are extended to the back of the xMac Pro server and mounted on the rear panel for convenient interfacing of: Gigabit Ethernet, HDMI, and USB 3.0 cables, as well as the power cord. Due to the active electronics at each end of the Thunderbolt cable, pass-through ports for Thunderbolt are not possible.





Holes for cable ties enable you to secure cables inside, keeping them tidy while avoiding accidental disconnects.

xMac Pro Server includes adjustable and removable rackmount extension rails that allow the enclosure to be installed securely in a variety of racks from 16" to 26" deep. Optional, extra-long extension rails that support installation in racks up to 32.5" deep are also available.
Simpler Mac Pro Rackmount Solution

If you like the idea and design of the xMac Pro Server, but don't need the expansion capabilities it offers for your Mac Pro, consider Sonnet's RackMac™ Pro rackmount enclosure for one or two Mac Pro computers. This 4U enclosure includes one or two Computer Mounting Modules (the same included with the xMac Pro) to secure the computers, and supports the installation of one Twin 10G Dual-Port 10 Gigabit Ethernet Thunderbolt 2 Adapter per computer. If you change your mind later about Thunderbolt-to-PCIe card expansion, you can add one or two Sonnet Echo Express III-R chassis to your setup.

Learn More