Overview
Tech Specs
Videos


Design Enclosure Supports Mid 2010 through Early 2020 Models


Versatile and Secure Mounting for Mac mini


Move your Mac mini off the desktop! Sonnet's MacCuff™ mini 2 security mounting bracket frees up space by attaching your computer to the back of a display—or to a desk, shelf, or wall—while allowing full access to its ports and power switch. Attached on the back of a display using its extra VESA mounting holes(1) (four holes in a square pattern), the MacCuff mini 2 securely holds your Mac mini in place.

Placed on the back of a display, your computer disappears leaving only cables to hide—Sonnet includes a special 35 cm (14-inch) short HDMI monitor cable to simplify that task. MacCuff mini 2 also supports simple cable management to help tame cable clutter.


Where to Mount


Many displays include extra VESA mounting holes (four holes in a square pattern), perfect for attaching a MacCuff mini 2.

Key Features

Secures Your Mac mini to the Back of a Monitor—Mounts to your display's extra VESA mounting holes (VESA 75 and 100 patterns supported) with included screws

Secures Your Mac mini Under or On a Desk or Table, or Even On a Wall—Simple installation using included drill template and included screws

Heavy-Gauge Steel Design with a Refined Finish—Prevents scratches while protecting your computer

Provides Wraparound, Pry-Resistant Security—With the included steel locking bar(2) installed and your padlock attached, your computer is secured on all sides


Key Features

Kensington Lock Compatible—Includes Kensington Security Slot on locking bar

Simple Installation—Includes concise documentation

Includes 35 cm (14 inch) HDMI Monitor Cable—Reduces cable clutter when MacCuff mini 2 attached to the back of your monitor

Offers Simple Cable Management—Enables you to secure power cord and other cables; prevents accidental unplugging

Lifetime Customer Support





Heavy Duty, Light Touch




Constructed of heavy-gauge steel, MacCuff mini 2 firmly holds your Mac mini in place, yet delivers a light touch—its refined double powder-coated finish won't scuff or scratch the computer.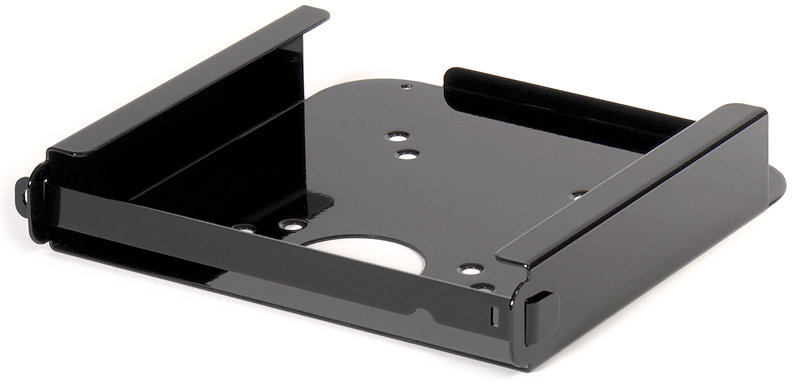 Wraparound Security

Unlike cheap brackets that merely hold a computer in place, or others that provide minimal protection, MacCuff mini 2 is pry-resistant and provides theft deterrence all around.



Lock It Up
With the included steel locking bar(2) installed and your padlock (sold separately) attached, MacCuff mini 2 is resistant and secures your computer on all sides.

Kensington Lock Ready
Secure the Mac mini and the monitor with one Kensington® lock!

Easy Installation



MacCuff mini 2 installation is simple. Sonnet provides easy-to-follow instructions (in case you actually need them), and the necessary hardware to secure the bracket. For back-of-monitor mounting, just use the four supplied machine screws. For under-desk, tabletop, or wall mounting, simply tape the included drill hole guide to the surface, drill pilot holes, and then secure MacCuff mini 2 using the four supplied wood screws.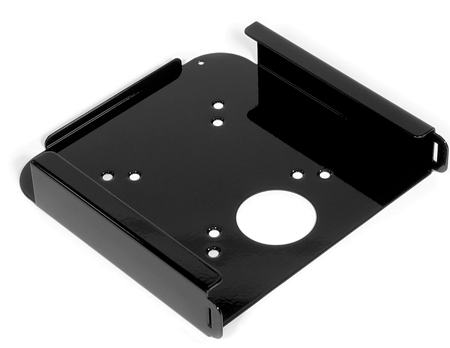 Free Lifetime Tech Support



Sonnet was established in Irvine, California in 1986. Since then, we've pioneered and brought to market many innovative and award-winning products that enhance the performance and connectivity of Mac, Windows, and other industry-standard computers. Many of our employees (including engineers) have been with the company for more than 20 years (some have been here since the beginning). We have a wealth of knowledge about our current and past products. Should you ever need technical support on one of our products, contact us; we'll be around to help you.




Mac mini computers, monitors, padlocks, Kensington locks, non-HDMI cables shown not included, sold separately.

Part No.
CUFF-MIN-LH2
MacCuff Mini 2
Hardware
Warranty
2-year
Form Factor
Computer bracket
Dimensions (WxDxH)
7.9 x 8.3 x 1.6 in. (20.1 x 21 x 3.9 cm)
VESA Mount
75 mm or 100 mm hole pattern(2)
Lock Shackle Maximum Diameter
9/32 in. (7 mm)
RoHS Compliant
Yes
Package Contents

MacCuff mini 2 Bracket
Locking bar(1)
35 cm (14 in.) HDMI cable
4 wood screws
4 machine screws
2 cable ties
Documentation with drill template

Documentation

Specifications subject to change without notice.

Mac Compatibility

Mac mini [mid 2010 (4,1) through current (2020) Intel® and Apple® M1 models]

Apple Airport Time Capsule® (first-fourth generation; early 2008-mid 2011 square, low-profile models)


Technical Notes

The included locking bar is intended for use as a theft deterrent and will provide added security ONLY when used with a lock (sold separately).
Not compatible with monitors that attach their monitor stands to the monitor using the VESA holes.